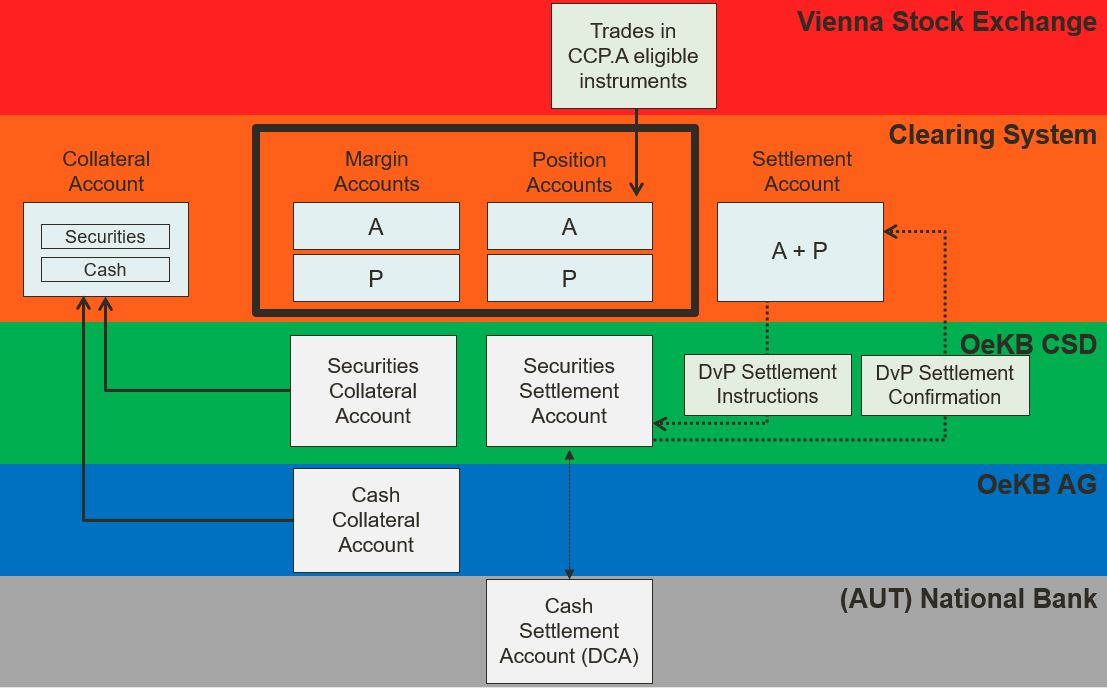 Clearing is performed fully electronically through the state-of-the-art real-time clearing system of CCP.A. All trades within the same ISIN, account category (agent or principal) and trading day are netted. Thus, only netted balances are settled. This process minimizes the number of settlement transactions as well as the risk exposure. Furthermore, it ensures efficient clearing up to international standards.
The clearing system offers a flexible account structure to the Clearing Members, thus enabling them to reach different granularity in the management of their position, margining, collateral and settlement accounts.
The clearing and risk management information is made available to the Clearing Members in different formats in near-real-time:
ISO Reporting (15022)
Settlement Period
Exchange transactions in CCP-eligible securities must be fulfilled on the second clearing day after the conclusion of the trade (settlement day is t+2).
Procedure in the Event of Default on Delivery

In the event of default of delivery, the clearing house proceeds according to the following steps:
Extension period
Buy-in process
Cash settlement

Based on § 100 BörseG 2018 the defaulting Clearing Member is obliged to pay penalty interests from the amount outstanding for the duration of the default in delivery pursuant to §§ 35 (8) and 55 (1) of the CCP.A General Terms and Conditions of Business.
Buy-In Process
During the extension period, a defaulting Clearing Member can arrange for the coverage of the shortfalls or instruct CCP.A to obtain coverage for the shortfalls. CCP.A tries to procure the missing quantity by contacting potential sellers directly as well as by means of an announcement on our website. The buy-in instruction should be made as early as possible in written form, per fax or per e-mail.